It's been 8 days since we officially launched the SmartCash Blockchain and while there is still a mountain of work ahead of us; we would like to atleast start trying to provide weekly #SmartCash updates to this wonderful community, as we are big fans of Steem.
With that being said; there will be weeks when we don't post due to being busy but we will do our best to keep a weekly update thread going on, if need be we can change it to a bi-monthly update after things slow down as well.
Also, anything posted in this update is not 100% guaranteed, as anything that requires funding must be approved by a community vote anyways. But we are confident in our plans and hope the SmartCash community will show us some early faith and let us hit the ground running.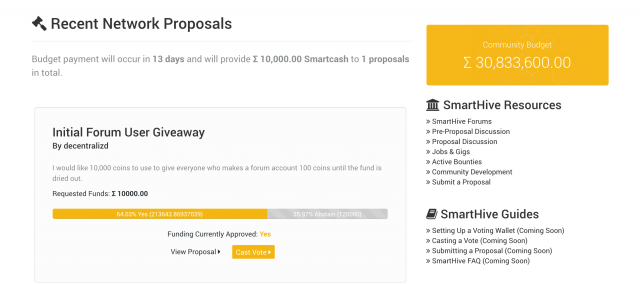 SmartHive Voting Website is almost completed! Should go live in a day or two, and then we will really hit the gas pedal.
We've been diligently working on the SmartHive Voting website, that is basically a Governance Portal that allows anyone SmartCash to vote on proposals that are submitted to the SmartHive platform. Proposing an idea costs 100 SmartCash and you must get a net 10% yes vote to pass a vote, approved proposals are paid out monthly.
The first SmartCash block explorer is officially live! Check it out: http://explorer.SmartCash.cc
We launched a block explorer over at http://explorer.SmartCash.cc for our immediate block explorer needs and to hasten the process of getting on exchanges and on websites such as Coinmarketcap, this was one of our early priorities and while the coin distribution is a little but misleading as well as the top 100 due to our block reward split, all in all it came out very nicely. Now we can focus on things such as upgrades and other SmartCash support tools.
SmartCash was added to Stocks.exchange 6 days ago and has had quite a bit of action already. More exchanges are in the works as well.
We are very fortunate to having a working relationship with many individuals in this space and had the chance to get listed on stocks.exchange, an exchange mostly focused on NXT assets. While this exchange may be smaller, it gives everyone a fair chance to access the market very early on in the life of the coin and even though liquidity is still a bit low, it is taking offer rather quickly so over the coming weeks we should see a very healthy market especially since it seems @bittrex & others are a bit busy right now. We are actively pursuing other exchanges and will keep the #Steemit community up to date as we add them. We are eyeing all the to be expected exchanges and are open to anyone willing to help speed up this process since its basically just man hours contacting them 1 by 1.
Block 10,000 has been mined! As of this moment we have mined 11,405 blocks on the SmartCash Blockchain!
This seems like a good solid number to celebrate for our first week of being a functioning crypto currency, thus we are putting it on the ever so wonderful immutable Steem blockchain. While there are many many more blocks to come in the future we are happy to see we've got through 10,000 blocks with a nice calm growth and difficulty increase. We are working on a mining pool as well so that should help even out the difficulty increases and create more opportunity for new miners to join in and make the most of their hashrate.
Twitter & Steem Giveaways are coming!
To celebrate everything and to run a field test of our wonderful Twitter tool we will be launching a Twitter Campaign tomorrow that will be allocated 10,000 SmartCash and each person will be able to receive 20 SmartCash per Tweet as long as certain credentials are used in the tweet and a wallet address is supplied. Follow @scashofficial on Twitter.com for directions on how to participate! Once we reach 1000 total tweets the account will be empty and we will end our field test. But don't worry we will be using this quite often! We may even add some bonus funds to the giveaway depending on how fast it takes off. Updates will be posted on the Twitter account in the morning, so be sure to follow!
Which brings us to #Steem Giveaways, we plan on using the same logic we are using on Twitter to build out Steemit Giveaways in the coming weeks! Anyone who writes about SmartCash on Steemit and uses #SmartCash will get a tip 1 time per day as long as the post includes a SmartCash Address and your reputation is above a certain threshold, such as 34 or so. This measure would be to ensure active users are rewarded and not bots. So make sure to follow us @SmartCash and be first to jump in when these go live! We will post updates as they become available.
This post was originally from our Steem Account: @SmartCash
https://smartcash.cc/wp-content/uploads/2018/07/main-logo.png
0
0
SmartCash
https://smartcash.cc/wp-content/uploads/2018/07/main-logo.png
SmartCash
2017-07-20 22:01:21
2018-07-14 10:59:02
Weekly Recap for SmartCash #1: